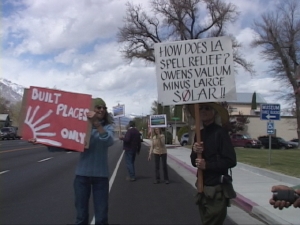 Public pressure on Inyo County leaders did not let up and officials did make big changes in their plans to formalize large, industrial solar development sites throughout Inyo County. The Planning Department came up with a much less intense plan. Supervisors seemed to support it. Public speakers thanked them for hearing the citizen outcry. The Board gave some direction to the Planning Staff, who will come back one more time with a revised Plan.
Before a large crowd of people made their way into the Supervisors' boardroom, concerned citizens held a press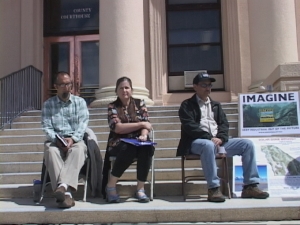 conference on the steps of the Inyo Courthouse, with some 60 in attendance. Ben Holgate hosted the hour-long conference and introduced three speakers – Bruce Embrey of the Manzanar Committee, Mary Roper of the Owens Valley Committee and Alan Bacock of the Big Pine Tribe. They all spoke against large-scale solar and DWP's solar plans across from Manzanar for reasons of the environment, history, and scenic beauty.
They all pushed for roof-top solar and small arrays. Mary Roper said said she was "hopeful that the Board of Supervisors hears the public outcry and deeply modifies the General Plan Amendment." Roper later turned over petitions with nearly 1200 signatures as evidence of that outcry.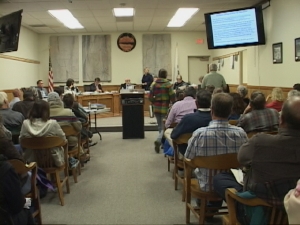 The Board meeting itself drew nearly 100 people. A Sheriff's Deputy stood by, apparently concerned by the large and passionate gathering. Planner Cathreen Richards went through the explanation of the Draft Renewable Energy General Plan Amendment and presented a much less intense version. That was new. It eliminated half of the proposed large sites and most significantly the one across from Manzanar.
Planning Director Josh Hart said Inyo finds itself in a "real quandary." He said Inyo has some of the best solar and wind resources, the state and federal governments are pushing for renewable energy development and there will be a significant increase in demand for it. He said, "Our goal is to limit areas of development." Officials and citizens also pointed out that if transmission lines expand, the pressure for renewable energy development here will multiply.
29 people offered more comments to the Supervisors. Many supported the new less intense plan, and many thanked the Board for hearing the concerns of the people. Many pushed for rooftop solar and smaller development. Others pointed to conflicts between solar development and environmental projects under the Long Term Water Agreement with DWP.
The Supervisors did seem to agree that they would exclude wind development in the western part of the Owens Valley. We will have more on Tuesday's events on later broadcasts.