Spring extended: Mammoth Mountain to Stay Open Daily Through Memorial Day for Skiing And Snowboarding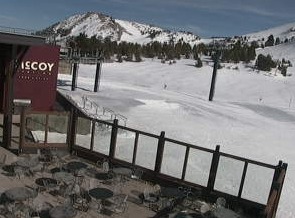 Nearly at the end of a difficult ski/snowboard season, Mammoth Mountain issued the following news that does stretch the season through Memorial Day.  The snow finally arrived to give Mammoth a good spring.
Mammoth Lakes, Calif.— Well known as one of the world's top destinations for spring skiing/riding, Mammoth Mountain will again be open daily through Memorial Day. The mountain enjoyed over 70 inches of snow in March, and with more expected in April, the stage is set for another fantastic spring in the Eastern Sierra.
"A series of March storms created the best conditions of the year and looking at the forecast they're not done yet," said Howard Pickett, CMO of Mammoth Mountain Ski Area. "Skiing and snowboarding on Memorial Day is a tradition in Mammoth and we look forward to continuing it this season."
While the exact closing date isn't set, Mammoth visitors are in for at least another two months of fantastic skiing/riding, entertainment and events, including: