Last week, the Bishop Area Chamber of Commerce and Visitors Bureau hosted a group of journalists that stayed and played in Bishop following the fall OWAC Conference in Mammoth Lakes.  OWAC is the acronym for Outdoor Writers Association of California, a non-profit association of media professionals who communicate the vast array of outdoor recreational opportunities and related issues in California and the surrounding western region. OWAC membership includes newspaper and magazine staffers, freelance writers, book authors, radio broadcasters, video producers, editors, photographers, artists, lecturers and information officers.  Each year, the group convenes in different locations throughout the state for the purpose of gathering story ideas and photos to highlight California's best outdoor offerings.
"Since the 2012 fall conference was so close to Bishop, we thought it would be a good idea to invite some of the journalists to extend their visit to the Eastern Sierra for an extra day of fun and info gathering in Inyo," states Tawni Thomson of the Bishop Chamber.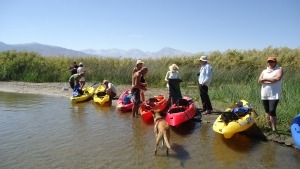 Eleven OWAC members accepted the invitation to the post-conference day in Inyo.  The group convened Tuesday morning, September 18th at the Bishop Visitor Center to meet chamber staff and volunteer guides.  Some journalists opted for a guided fly-fishing trip, several went kayaking on the Lower Owens, and one enjoyed a horseback ride followed by guided tours of the Paiute-Shoshone Cultural Center, Owens Valley Radio Observatory and Mt. Whitney Fish Hatchery.   Following the full day of activities, the group met up again at Whiskey Creek Restaurant for dinner and more information sharing before retiring to spend the night at the Creekside Inn.
The Bishop Chamber was pleased and honored to host the group of very talented, accomplished and prolific journalists including Tom Steinstra, Janet Fullwood, Meade Fischer, Barbara Steinberg, Tom Martens, Jeff McElroy, Greg Niemann, Catherine Billey, Dave Huebner, Sharon Martinson and Steven Bumgardner.
In coming months, it is likely that this project will lead to stories in a variety of major media outlets including San Francisco Chronicle, Sacramento Bee, Go Magazine, Dog Trekker, California Meetings & Events, California Fly Fisher, Western Outdoor News, California Sportsman, California Kayaker, Adventure Sports Journal, Outdoor Life, ESPN Outdoors, California Travel Insider, Mammoth Sierra Magazine and others.
The Bishop Area Chamber of Commerce is grateful to many partners that made this project possible, including:  County of Inyo CPSP Grant Program, Mammoth Lakes Tourism, Bishop Motosports, Rainbow Pack Outfitters, Joe Pollini, April Leeson, Erin Gutierrez, Rachel Anderson, Fred Rowe, Mark Rosen, Brock's Sporting Goods, Erick Schat's Bakkery, Whiskey Creek Restaurant, and the Creekside Inn.