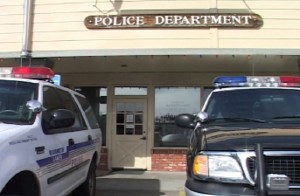 Mammoth Police Chief Dan Watson said that an incident on Saturday "could have had tragic results but for the restraint showed by the officers."  This police press release revealed the string of events:
On Saturday May 26th, at about 10:30 PM, Mammoth Lakes Police Officers responded to a domestic violence incident at Snowcreek Condos. Mono County Paramedics and two Mammoth PD Officers responded to one condo to contact the victim. The victim was found lying on the floor with lacerations and contusions on her head and face. She said she had been struck multiple times and thrown down the stairs by the suspect,
Stephen Anthony Mellor, age 43. The suspect was in the condo next door. When officers went there, they could hear items being broken inside. Upon making verbal contact with the suspect, he rapidly threw open the front door, extended his right arm and pointed it toward officers. Officers saw something in his hand and believed it to be a weapon. The suspect said he had a gun and said he would kill them. He then threw heavy items including a bicycle lock at officers. Officers believed the suspect may have been suicidal and attempted cause a "suicide by cop." The suspect ultimately forced officers to deploy a Taser and he was taken into custody without further incident. Stephen Mellor was taken to Mammoth Hospital to be treated for minor self-inflicted wounds, and then to the Mono County jail where he was booked for felony domestic violence. His bail was set at $50,000.